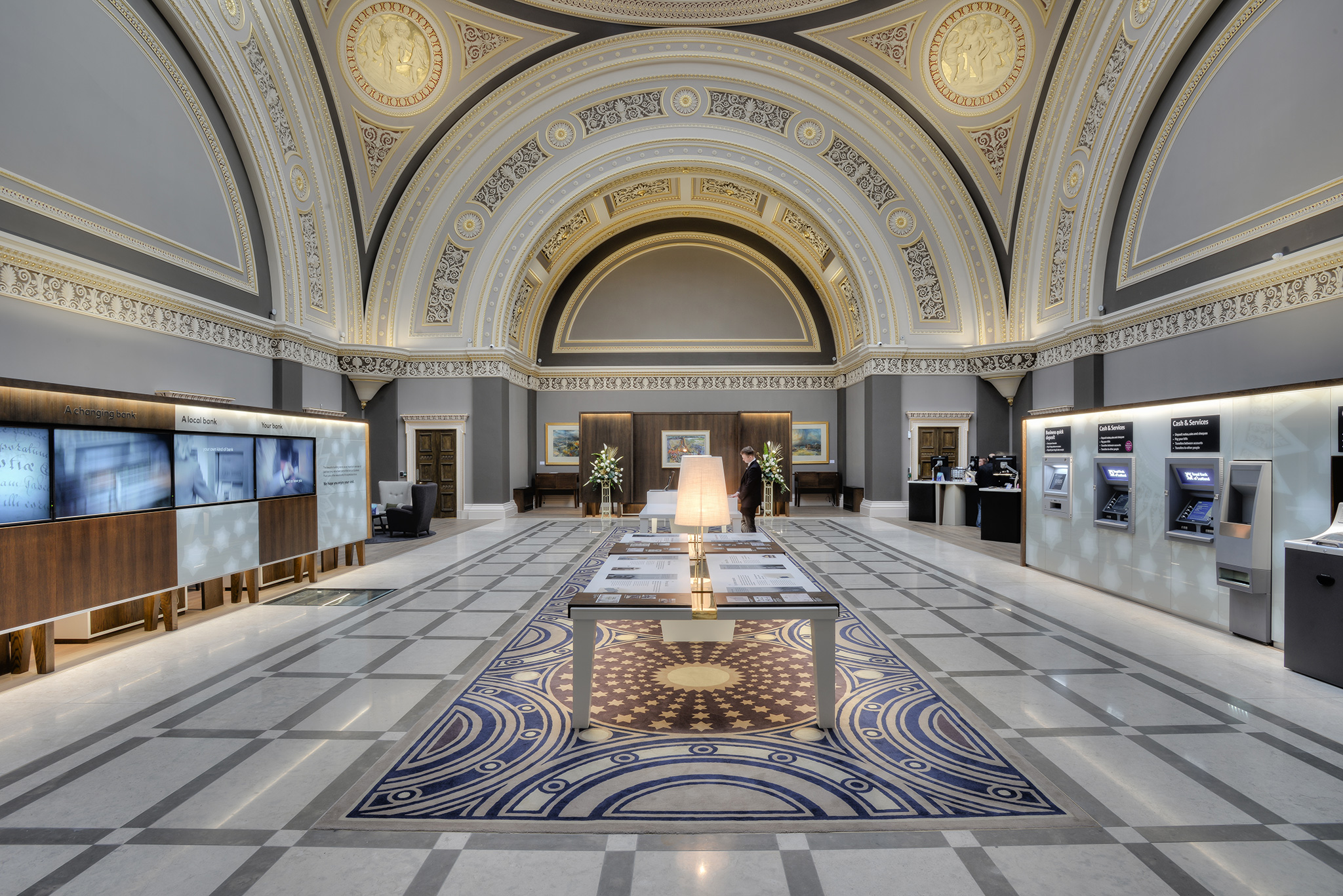 The Royal Bank of Scotland at 36 St Andrew Square
Graven worked in collaboration with the Royal Bank of Scotland Retail team, on the extensive restoration and refurbishment of the flagship Royal Bank of Scotland branch at 36 St Andrew Square, Edinburgh. Our design is respectful to both the well-loved exterior and highly ornamental interior of the building and designed to enhance its historical features using high quality materials and sympathetically designed details.
The first phase of 36 St Andrew Square incorporated the comprehensive refurbishment of the Banking Hall, which delivers an enhanced customer experience. Our design approach includes innovative heritage-style displays that provide a historical context for both the building and Royal Bank of Scotland to create a resource that Royal Bank of Scotland customers, tourists and visitors to the city can enjoy.
Dramatically crafted tables located centrally in the hall provide heritage information about the building's past and additional customer services. A range of service points, teller positions and bespoke upholstered booths give customers comfort and privacy and a sensitive new lighting scheme has improved the light levels and enhances the architectural details of the magnificent banking hall.
During the refurbishment contractors uncovered some of the original tiles which were laid in 1860. A glass floor now covers that section in the banking hall to reveal some of the Victorian tiles below so that customers can see a piece of the past.
This project optimised the outstanding architecture of this landmark Listed building by creating a flagship operational environment that simultaneously exploited opportunities to communicate a positive story about the Bank to customers and visitors. The project is a good example of achieving 'added value', 'efficiency' and 'effectiveness' by making every element work hard and be meaningful. This was achieved by our structured approach that balanced cost and value and leveraged high-quality features. For example, there was a greater financial cost in using stone and solid timber flooring and a bespoke rug within the historic banking hall, but the value of using these high-quality materials was appropriate for the dramatic Listed environment which attracted visitors and reconnected customers with the period in Royal Bank of Scotland's history when it was a trusted cornerstone of Scottish life. Cost savings were identified in less sensitive areas in the project.
The second phase of 36 St Andrew Square incorporated the refurbishment of the former original Mansion House to offer high quality meeting space providing a series of large bookable meeting rooms, a boardroom, small private customer lounge, bookable visiting executive office and balcony. These spaces provide a suite of meeting facilities supported by modern technology.
Awards
RBS Banking Hall won a Scottish Design Awards Commendation 2016 for Interior Design
Press
Urban Realm | Best Buildings, Interiors, 36 St Andrew Square Banking Hall
Client

Royal Bank of Scotland Group

Scope of Services

communications design, graphic design, interior design, signage & wayfinding

Location

36 St Andrew Square, Edinburgh

Photography
© Renzo Mazzolini Photography