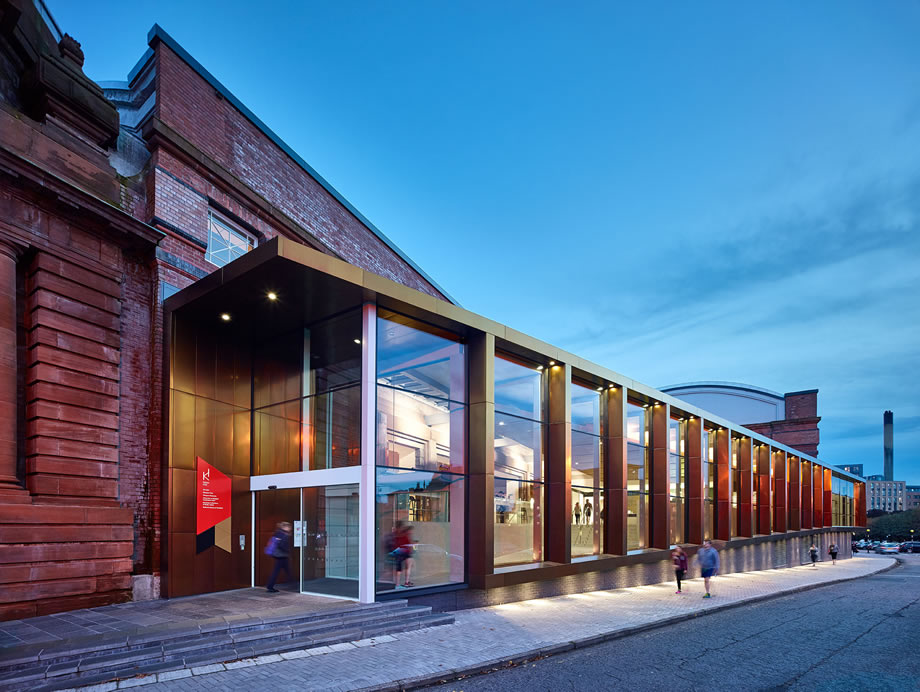 Kelvin Hall, Glasgow
As part of a multidisciplinary team, Graven collaborated with PagePark Architects on the Kelvin Hall redevelopment phase 1, working on the interior design of specific spaces, environmental branding, exhibition design, signage and wayfinding.
This unique partnership between Glasgow Life (Glasgow Sport and Glasgow Museums), University of Glasgow (The Hunterian) and National Library of Scotland transformed Kelvin Hall into a centre of cultural and sporting excellence.
Phase 1 of the Kelvin Hall redevelopment has seen a complete transformation of the original interior including the creation of a state-of-the-art Glasgow Club and community sports centre that is the largest and most advanced Glasgow Club facility in the city.
In addition two new museums collections facilities were created to provide a new home for a combined 1.5 million treasures from Glasgow's civic collection, The Hunterian Museum and those of the National Libraries of Scotland. The project will provide archive storage space for both Glasgow Museums and The Hunterian collections and provide office, education, laboratory and curatorial space for The Hunterian and the National Library of Scotland.
PagePark Architects' design for the extension and refurbishment forms a grand avenue through the building, with facilities arranged on either side. Graven treated this 100m long circulation space as an opportunity to tell visitors stories about Kelvin Hall and its many uses – past, present and future – through interpretive panels, audio visual screens and selected objects from the partners collections. This encourages links between stakeholders in the building and creates unprecedented cross-museum curatorial collaborations.
Graven also designed the first "Collections Showcase" exhibition, which uses the full height of the lightwell and an archive racking system as the main display structure. Our curatorial partners enjoyed the way in which the solution allowed visitors to view the objects from different levels.
Accessibility to the vast archive collection is unique in this project and Graven's approach makes it easy for visitors to engage with otherwise unseen treasures.
The materials palette is simple and architectural and Graven's fit-out details help to enhance the inherent dramas and complexities of the architects' scheme design.
The café, reception and shop take advantage of the exposed original stonework and combine it with solid oak, terrazzo, decorative tiles and pendant lamps to make a space that is easy for visitors to spend time in. The café has already become an established meeting place for the diverse mix of people who are drawn to Kelvin Hall.
Graven's environmental branding and wayfinding signage for Kelvin Hall take their lead from the building's existing brand and visual identity, combining triangular forms with striped patterns to add a layer of dynamism and movement to the environment, which is in keeping with its half-cultural and half-sporting use.
Phase 1 of the Kelvin Hall development opened on 22nd August 2016.
Awards
AJ100 Awards Building of the Year shortlist 2017
RICS Awards 2017 Project of the Year
RICS Awards 2017 Tourism and Leisure category
Scottish Property Awards 2017 won the judges Award of Merit
Enjoy the tour of Kelvin Hall Glasgow Club part 1 of the Customer Journey
Enjoy the follow up tour of Kelvin Hall Glasgow Club with part 2 of the Customer Journey
The Architects' Journal Page/Park shows off £24m revamp of Glasgow's Kelvin Hall
Client

Glasgow Life (Glasgow Sport and Glasgow Museums), University of Glasgow and National Library of Scotland

Scope of Services

interior design, graphic design, environmental branding, exhibition design, signage and wayfinding

Location

Argyle Street, Glasgow

Photography

Andrew Lee Photography and Renzo Mazzolini Photography