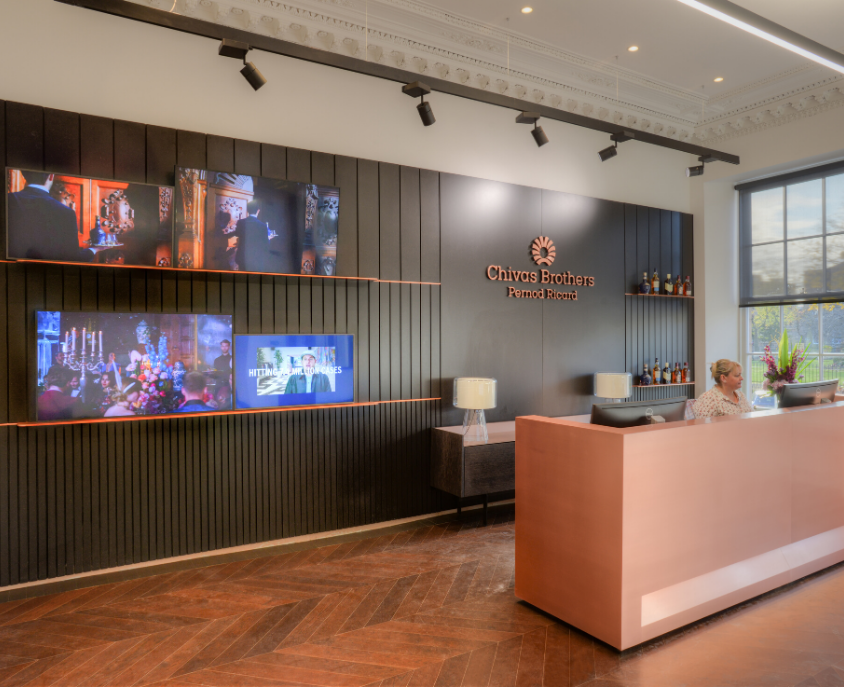 Chivas Brothers, Glasgow
Graven designed new offices for Chivas Brothers, part of the Pernod Ricard Group, on Blythswood Square in Glasgow's city centre, playing a key role in their relocation from their historic location in Paisley.
This project allowed Graven to combine their wealth of experience designing hospitality environments and luxury brands with their award-winning expertise in workplace design.
The design brief demanded a reimagining of the work environment. Chivas Brothers needed a space that could positively impact the work culture of the organisation, encouraging an attitude of conviviality – the very foundation of the company and its products.
Graven prioritised an exceptional and flexible working environment to support the organisation's future growth plans, effectively combining architecture and technology to enable staff to get the best out of all areas of the building depending on their task or needs.
Graven designed a space in which the team can grow and thrive. Graven's approach puts Chivas Brothers at its heart and truly embodies Pernod Ricard's vision statement, "Créateurs de Convivialité" (creators of conviviality). The design embeds opportunities for the Chivas Brothers team to meet and to share experiences. Social spaces are paramount. This included the design and build of a 'convivial lounge', coffee bar, technologically enabled meeting rooms and a super-flexible kitchen. There is a fully equipped bar where, as well as occasional relaxation, the team and its business partners can train and develop their skills and knowledge.
Kirsty Lang, Director at Graven said: "It's been a pleasure for Graven to work with the Pernod Ricard team designing their new workspace for Chivas Brothers on Blythswood Square. We're proud of our design and hope that it will help them achieve their ambition of becoming the world-leader in the Wine & Spirits industry.
"Our design approach aimed to create an open and flexible environment for the Chivas Brothers team, allowing them to enjoy a variety of work and social spaces. We are thrilled that the team are enjoying their new home in the heart of Glasgow."
Client

Pernod Ricard

Scope of Services

Internal design, architecture, signage and branding

Location

Glasgow, Scotland

Photography
© Renzo Mazzolini Photography