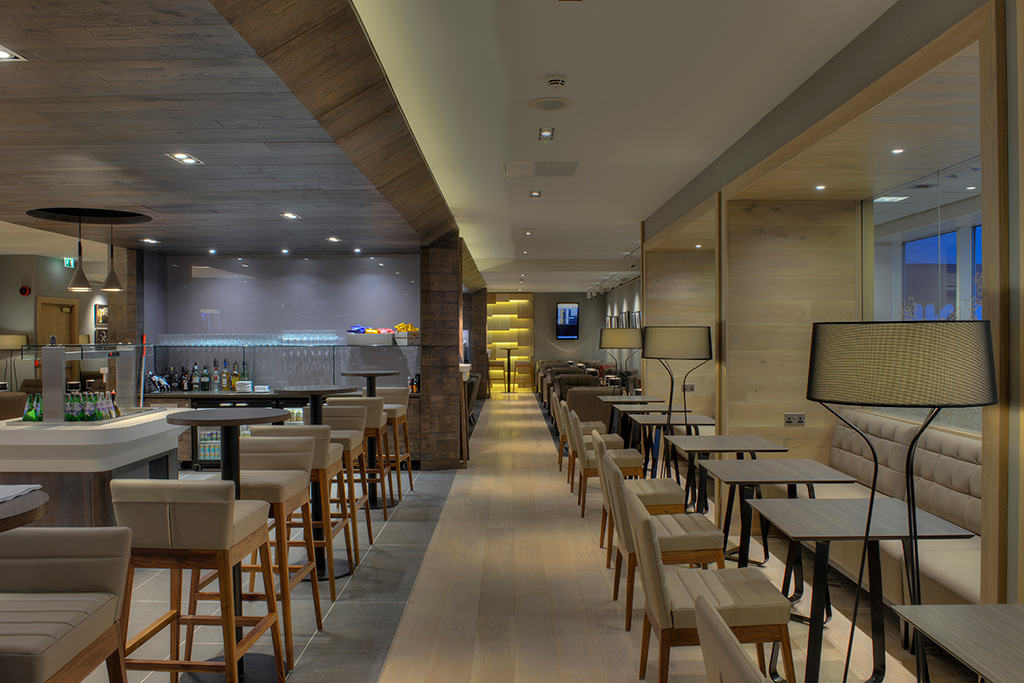 British Airways Lounge, Glasgow Airport
Graven designed the British Airways Lounge for Glasgow Airport, including a few evolutionary twists that take advantage of its location in Graven's home city.
We created a series of connected smaller spaces to meet the range of needs of British Airways Executive Club and Business guests and increased the lounge's capacity to 150 customers; double its previous Glasgow Lounge capacity.
The 450 square metres of redesigned space has re-opened following a £800,000 re-fit which has also seen the introduction of innovative new features, including welcoming pods with an LED-lit mesh panel wall by Giles Miller Studio giving a subtle representation of BA's brand.
The main catering space has been designed as the focal point of the Lounge, with shared and intimate banquette style seating, as well as coffee and deli serving stations.
With ceilings wrapped by natural oak and a mix of ceramic and oak flooring, the new Lounge is a warm and lively space that supports customers whether they want to work or relax.
The lounge incorporates many elements that feature the materials and skills of Scottish companies, including the Bridge of Weir Leather Company and Bute Fabrics. As with other Galleries Lounges, art is an important aspect and works by graduates of the Glasgow School of Art are displayed throughout.
The space has limited natural light, so Graven worked with Kevan Shaw Lighting Design to create a lighting scheme which gives an illusion of space where it is needed, but contributes to an atmosphere of intimacy elsewhere. This is most successful on the rear feature wall, which has veneer panels stained in three different tones, visible almost as soon as guests enter the Lounge. The ambient shading creates a peaceful study area.
The lounge incorporates a unique Glenlivet Whisky Snug, showcasing the finest single malt Scotch whiskies and featuring Lee Broom's decanter light shades. The bar, the first of its kind in a British Airways lounge anywhere in the world, was a neat solution to re-using a 'difficult' corner of the previous lounge with a view out onto the airport runway. This can now be glimpsed through the window and the whisky bottles.
Spindle back chairs by Patricia Urquiola have been matched with Graven's own Harris Tweed lamp shades. The walls are lined with Bute tweed and held in place with Graven designed buttons crafted by Glasgow jewellers Brazen.
Client

British Airways

Scope of Services

interior brand guidelines, interior design, signage and wayfinding

Location

Glasgow Airport

Photography
© Graven
© Renzo Mazzolini Photography